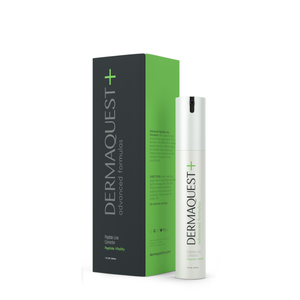 DermaQuest
Advanced Peptide Line Corrector
Regular price
$210.00
$0.00
Unit price
per
A powerful peptide treatment that defies the signs of time. 
What it is: 
DermaQuest Advanced Peptide Line Corrector is a genius serum that harnesses the unrivaled power of peptides to address all signs of aging from lines to dehydration to pigmentation. With daily use, DermaQuest Advanced Peptide Line Corrector significantly softens and smoothes lines and wrinkles, deeply hydrates parched skin, and reverses age-related pigmentation.
13 distinctly-skilled peptides create the ultimate anti-aging treatment.
A potent combination of 13 powerful peptides; neurotransmitter inhibitors, anti-inflammatories, tyrosinase inhibitors and collagen builders compose 60% of the formula, working to slow down the formation and deepening of lines while building collagen and encouraging thicker, smoother skin and reduced inflammation and pigmentation.
A skin-nourishing prebiotic restores balance and strengthens skin's defense system.
CultiBiota, a stable prebiotic, counteracts the effects of environmental stressors, improving the overall health of the skin while reducing redness, balancing pH, and protecting against UV exposure.
An intelligent, time-released delivery complex carries active ingredients straight to the source.
Hydroxysomes serve as a highly-efficient vehicle that allow active ingredients to penetrate deep within skin.
Revolutionary smoothing and hydrating technologies lift, fill, and smoothe.
Matrixyl® Morphomics™ support the visible reduction of fine lines and wrinkles while Wellagyl® (Rosa Damascena Flower Extract) reduces transepidermal water loss for plumper, more refreshed skin.
---
Share this Product
---